CONNECTION PREGNANT WOMEN
How to Earlier Trigger "Vulnerable" Pregnant Women in Eindhoven to Enter the Dutch Healthcare System?
Design Research Project | Qualitative data, coding, and clustering analysis
field research, human-centered design
Stakeholder: Philips Design
Background
Maternal and perinatal mortality in the Netherlands is high in comparison to other European countries [1]. Studies show that non-natives have a much higher mortality rate than Dutch natives which could affect the perinatal and maternal mortality rate in the Netherlands [2]. A risk factor that could lead to maternal and perinatal mortality is too late detection of fatal diseases. To tackle this issue, it is needed to find the first engagement point of these specific groups of pregnant women to trigger them to enter the Dutch healthcare system(DHS).
Field research
Different engagement points are reached in Eindhoven for gathering insights about pregnant women. These places include the Woensel market, Young Mother Organization, Breastfeeding cafe, WijEindhoven, midwifery practice, pregnancy yoga center, and Stichting Ik Wil. From these places, women are interviewed who are pregnant or already gave birth a short time ago about their experiences with the Dutch Healthcare System.
Benchmarking
From these engagement points including the GP and the hospital, experts are interviewed about their experiences with women who need more help in the DHS. Different information is gathered about how they reach these women and what information they share with them through what methods. There are for example existing mobile applications for women to track their pregnancy and for preparing their pregnancy. Engagement points share this helpful information about these apps or the DHS on folders and in flyers.
Research through design
Different tools are designed that included information about pregnancy in the DHS. Flyers, videos, and a tangible information box are created to test which one will trigger women to obtain the proposed information. The interview is transcribed through coding and clustering. From this data, the needs of these women could be analyzed.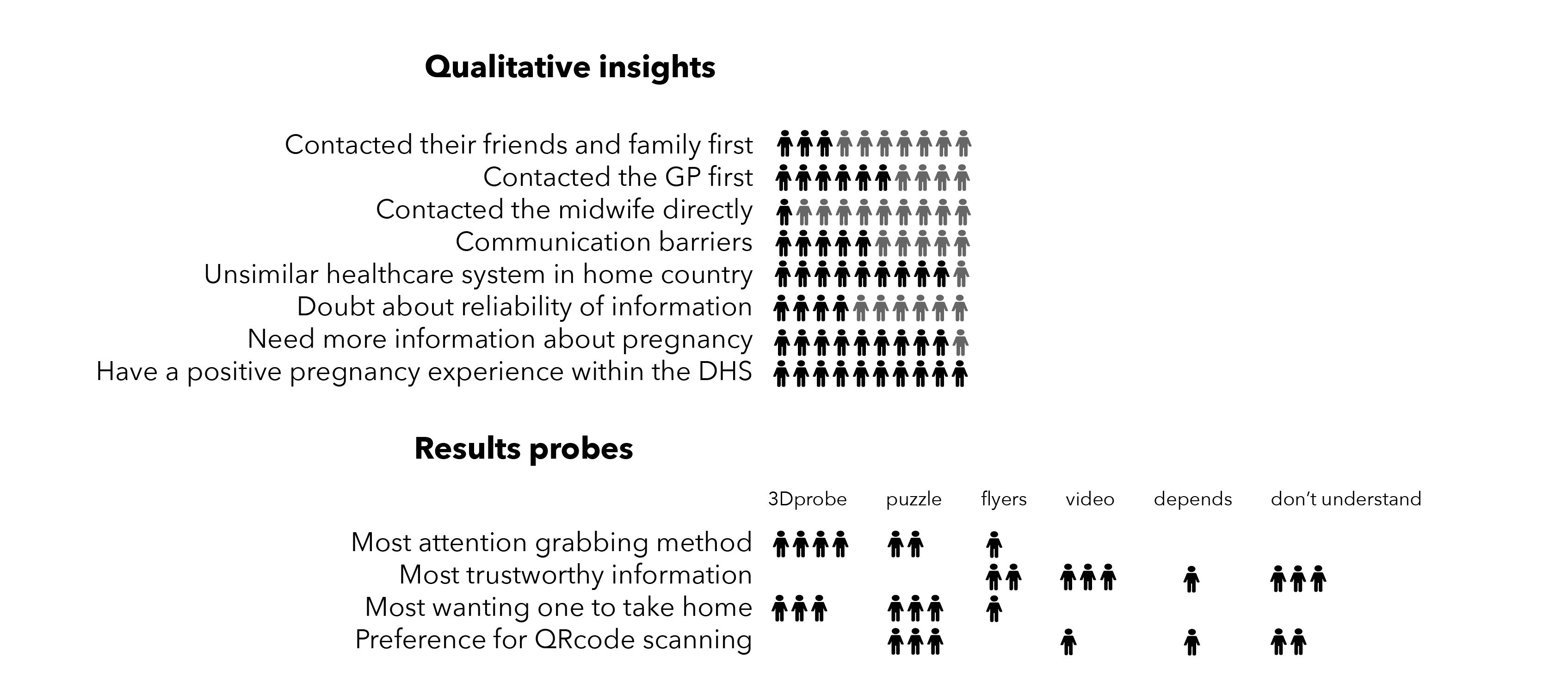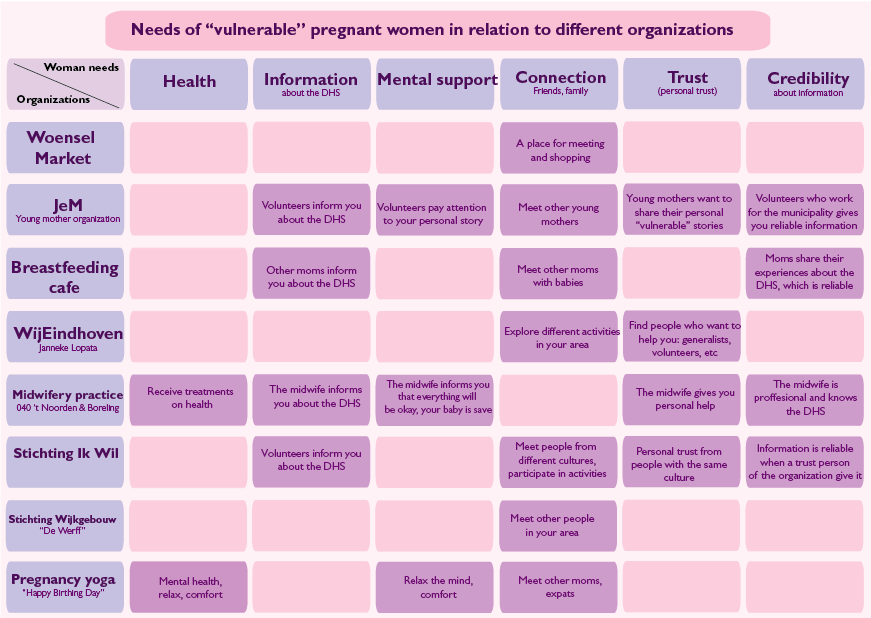 Reference
1. Denktaş, S., Bonsel, G. J., Van der Weg, E. J., Voorham, A. J. J., Torij, H. W., De Graaf, J. P., ... & Steegers, E. A. P. (2012). An urban perinatal health programme of strategies to improve perinatal health. Maternal and child health journal, 16(8), 1553-1558.
2. Evers, A. C., Brouwers, H. A., Hukkelhoven, C. W., Nikkels, P. G., Boon, J., van Egmond-Linden, A., ... & Kwee, A. (2010). Perinatal mortality and severe morbidity in low and high risk term pregnancies in the Netherlands: prospective cohort study. Bmj, 341.